Solar Power Plant Design Online course
Advance Electrical Design and Engineering Institute specializes in online photovoltaic education, focusing on industrial design, installation, commissioning and maintenance of photovoltaic (PV) systems. The classes emphasize safety, industry insight and workforce development. The course is appropriate for individuals seeking to establish a career in the solar energy industry or continued education for the solar professional. The training is presented online via a self paced course with full instructor communication and support. After the student registers they can interact directly to the instructor and it should be one-one session going to conducting for two months . Informative PowerPoint and multimedia presentations are incorporated into the online classes. Students will participate in online Live Projects on KW ,MW Scale and testing for evaluation, final outcome results, and better comprehension and retention of material. Upon completion of the course the student will have the ability to download and print a certificate of completion.
Upon registration of class the student will receive
---

Who should attend:
Anybody who wants to gain valuable hands-on experience, especially electrical and Diploma in electrical engineers; electrical and general contractors, electrical designers .

Prerequisites: Participants should have a basic understanding of electrical Engineering ,Participants should also have Basic knowledge of electrical.




How much: The fee is Usd 750 per person. for Indian Rupees Rs 40,000/- Fee includes
course materials.
How to Register: We offer the following options to register for this class. Class size is limited, so we recommend that you register early to guarantee a seat.

1. Online - click on the Enroll Now button below and register using a credit card or check card. You will be redirected to our online payment page for a safe, secure transaction. You will receive an email confirmation when the transaction is complete.
2. By phone – simply call us at (+91)-8467024957 and we'll process your registration over the phone.

Connect with Us :
Call Us: +91-8467024957,7531923094
whatsApp: +91-8467024957,7531923094
Skype: aedei01
Mail Us: info@advanceelectricaldesign@gmail.com
---
Upon registration of class the student will receive
.Photovoltaic Systems Textbook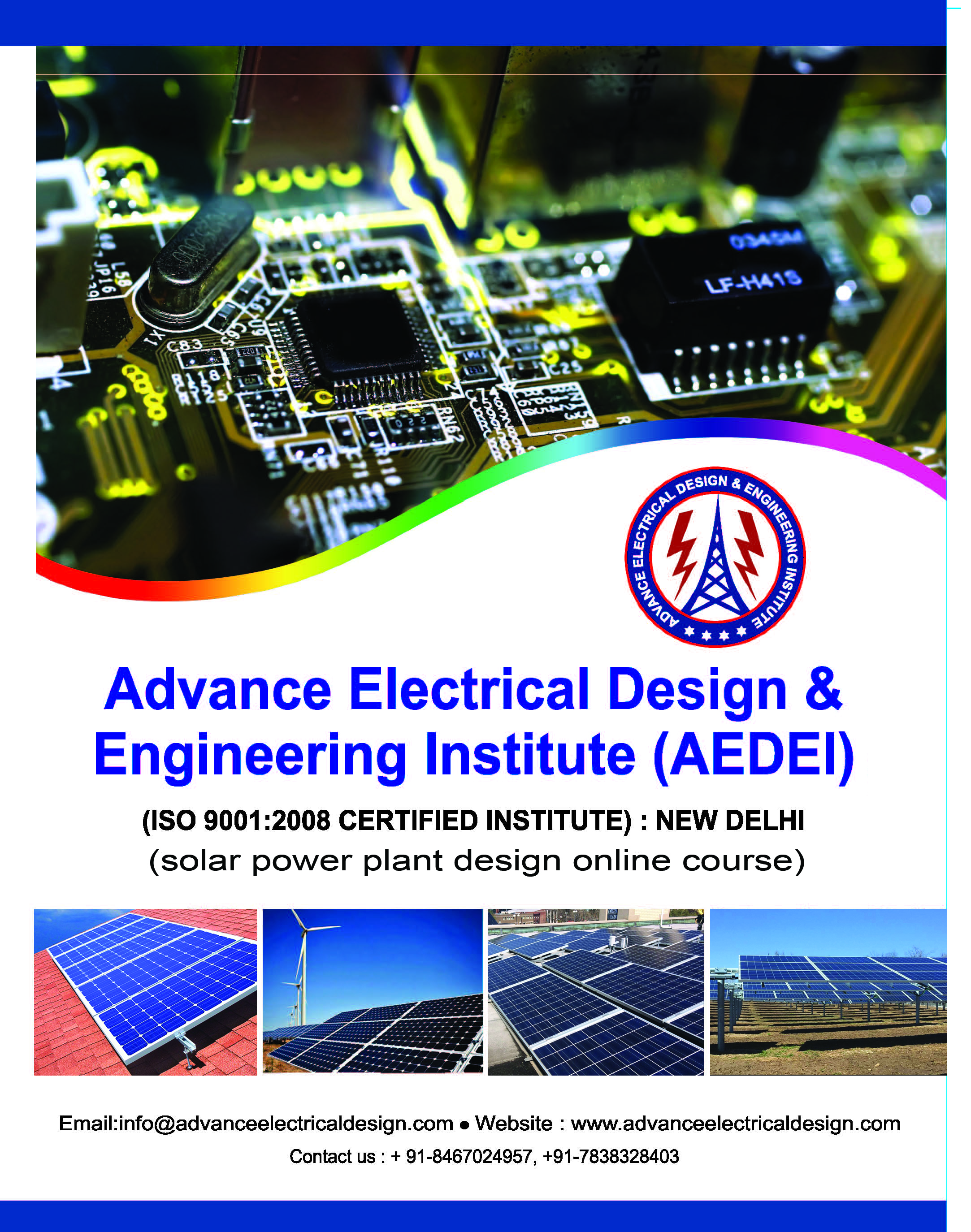 Who is Solar Design Course Training for?
Engineers
Architects
Sales people
Entrepreneurs
Syllabus Outline of Solar power plant Design Course (Online and Offline)
preparation of pv module data sheet
prepration cable sizing and selection
prepration od ESE and Lighting Protection (NFC-17102)
Preparation of Specifications of Various Plant Components.
Selection of Inverter for Optimum Generation.
Design of Strings/ Arrays.
Designing SLDs from PV Modules to Combiner Boxes to Inverters till the excavation point.
Earthing of PV Module Mounting Structure
Lightning protection Calculations of PV area Preparation of PV Array and other Layouts (lightning, earthing, equipment etc.)
DC / AC Cable, Combiner Box, fuse and other Sizing Calculations.
Technical Evaluations and Selection of different live Plant Components
Technical Evaluations and Selection of Different Solar PV Module Technologies
Preparation of Detailed Project Reports on 1-500 kw rooftop and 20 MW
Preparation of BoQ of Solar PV Plants (MW Scale, Roof-top , Grid Interactive and Off-Grid)
preparation of shadow anlysis